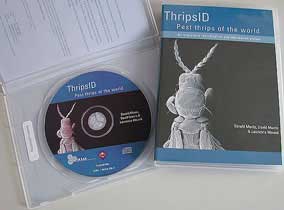 ThripsID:
Pest Thrips of the World is an interactive identification and information system that provides a fully illustrated and user-friendly means of recognising most of the thrips species that have been recorded as pests in various parts of the world.

This comprehensive package also offers a range of information on the host-plants, distributions and body structure of these species.

ThripsID: Pest Thrips of the World provides detail on the generic and family classification of this order of insects, the Thysanoptera.
Covering 180 species of thrips in 95 genera, and all 9 of the currently recognised families of Thysanoptera, the identification system is richly illustrated with more than 1500 original photomicrographs, showing details of the structure of each species.
ThripsID: Pest Thrips of the World will be a valuable resource for research workers, quarantine officers, economic entomologists and virologists, and also teachers and students who wish to know more about this order of insects.